Some Kind Of Jam 15
April 29-May 2, 2021
Schuylkill County Fairgrounds
2270 Fair Road
Schuylkill Haven, PA
CLICK HERE TO VIEW SKOJ15 PROGRAM

WEEKEND PASSES ARE AVAILABLE AT THE GATE

A full weekend music & camping festival, featuring: 24 musical acts on 2 stages, workshops, food & craft vendors, a kids area with activities, late-night indoor jams, light shows, fire performances, parades, yoga, art areas, and so much more! Jibberjazz will showcase a variety of musical styles including Jam, Funk, Bluegrass, Folk, Blues, Rock & Roll, Reggae, Americana, World, Jazz, Progressive, etc. Artists drawn from all over the USA! ​ Let's Get to Wild Dancing!
COVID-19:

Understandably, questions and concerns exist about how to be responsible for your health and the well being of others at Some Kind Of Jam 15. Jibberjazz will abide by all government safety guidelines during this event and will continue to monitor the situation so that we are on top of everything pertinent while the festival takes place. There will be temperature checks conducted the gate, sanitation stations will be scattered throughout the property, and there is plenty of space throughout the grounds for adequate distancing. Please direct any questions/concerns to [email protected].

If you are sick, don't come.
Wear masks where required.
Wash hands. Check your temperature. Use common sense.
Be safe!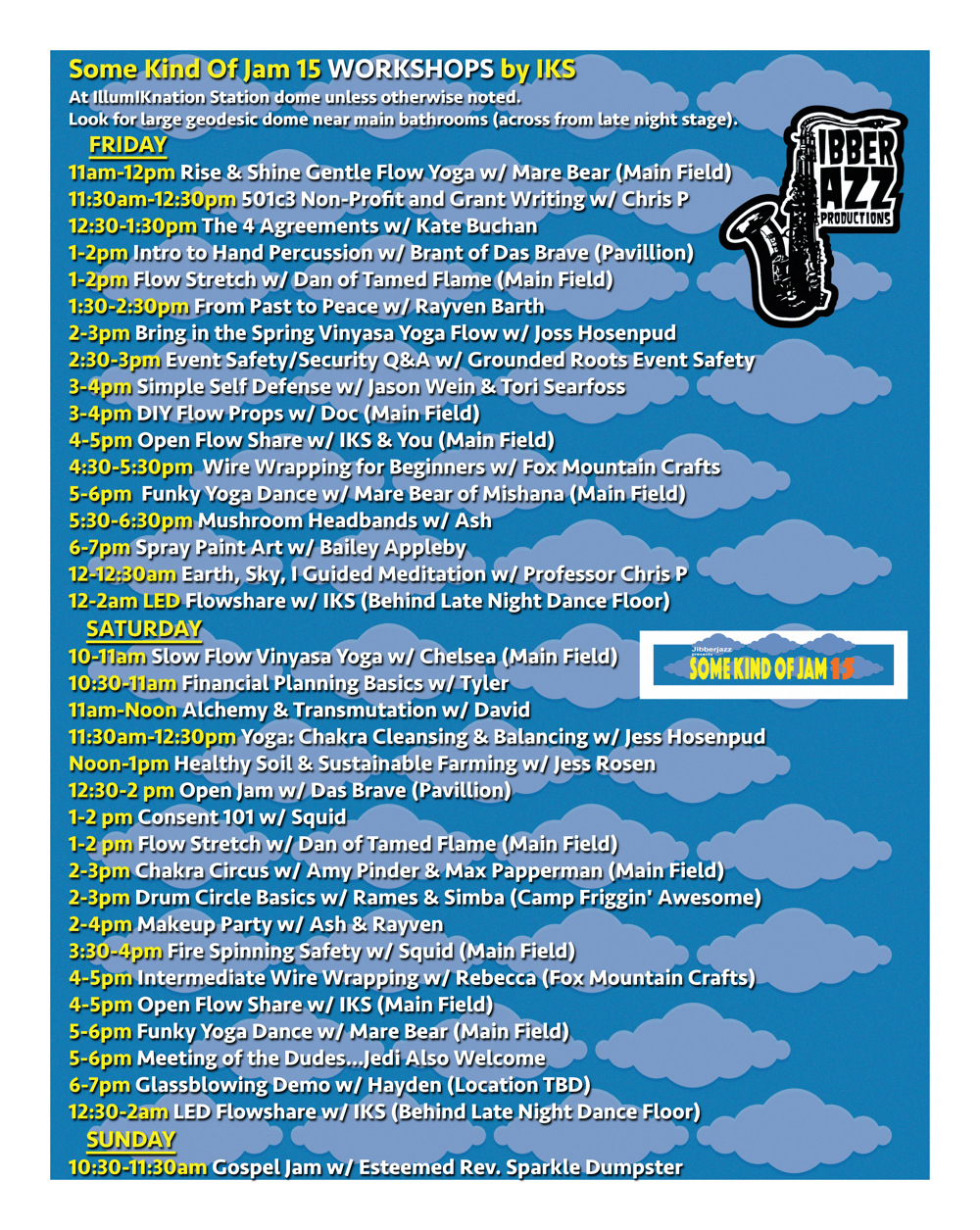 WORKSHOPS

IllumIKnation Station (IKS) welcomes each of you to join your brothers and sisters in learning about subjects that you care about! We are a grassroots group that travels around to music festivals and other events promoting education, exploration, community, and making a difference in the world. Our presenters are volunteers like YOU who want to share their knowledge, and our topics are as varied as your interests!

CLICK HERE TO VIEW SKOJ15 PROGRAM

COMEDY
Grandma & Friends Present Joke for a Smoke is a comedy showcase consisting of local comedians performing for festival audiences. During this 90-minute showcase viewers will get an opportunity to see 6-8 local comedians perform their comedy acts. After the showcase the viewers will get an opportunity to perform themselves during the open mic following the show.

General Rules

• No Illegal Substances
• No Weapons
• No Fires on the Ground (elevated fire pits only)
• No Nitrous Oxide
• No Glass Bottles
• No Underage Alcohol Possession/Consumption
• No Loud Music in Camping Area
• No Motorized Golf Carts, 4-Wheelers, Dirt Bikes, etc.

The safety of our patrons is of utmost priority. Failure to adhere to rules above will result in immediate ejection from festival grounds by Jibberjazz Security. Thank you for understanding.
Schuylkill County Fairgrounds

2270 Fair Road,
Schuylkill Haven, PA 17972

Within Summit Station on PA-895, between 183 and 61.

The venue is a beautiful 80-acre rustic fairground, featuring outdoor & indoor stages, plenty of camping space, permanent restrooms & showers, nature trails, trout-fishing waters, and electricity access. This event is B.Y.O.B. for those with valid I.D.
Food / Craft Vending

Interested applicants should send an email with detailed vendor description to [email protected]. If email is not possible, you may mail a description, menus, etc, to the address on the Jibberjazz contact page. We archive all submissions and contact every vendor we are interested in working with in advance.
RV Camping

Each weekend RV pass with electricity is $50. To purchase a spot in advance, or for more information, contact: [email protected]. RV passes do NOT include any festival tickets. We have yet to sell out of RV passes at this site but they are first come, first serve if not reserved in advance.
More Information

What time does the GATE open? Friday at 9:00AM. However...

Can I come to the festival EARLY? Campers may arrive on Thursday AFTER 4:00PM. Thursday arrivals carry an additional $15 "early bird fee" per person (payable in cash, at the gate). Vendors are not subject to this fee and may arrive as early as 2:00PM Thursday. There is live music Thursday evening as part of the pre-party.

What is the ADDRESS? 2270 Fair Road, Schuylkill Haven, PA 17972. On PA-895 (between routes 183 and 61) in Summit Station.

Do KIDS have to pay? Children 12 and under are admitted free-of-charge and must be accompanied by a legal guardian. All children must be registered upon arrival with the telephone number and valid ID of their guardian.

How much does it cost on SATURDAY? Single day passes are available after 9:00AM on Saturday for $60 and include camping.

Do you sell DAY PASSES? No. All tickets include camping.

Can I leave and RE-ENTER? If your wristband remains intact on your wrist AND you possess your original ticket stub, you may reenter the festival grounds. You are required to check in with Jibberjazz staff each time you enter through the gate.

How long can I STAY? You may stay on the grounds until 5:00PM Sunday at the very latest.

What is the cost to PARK? There is a fee of $5 per car, or $10 per oversized vehicle and/or vehicles pulling a trailer. RV electricity passes include parking.

Can I bring my DOG? Pets are welcome at Jibberjazz festivals, but as regulated by our insurance company, no dangerous breeds of dogs are allowed on the grounds. A good general rule of thumb is: If your animal has the capacity to harm a child, leave it at home or in a shelter. All animals must be registered at the gate with current proof of Rabies Vaccination. All animals MUST BE LEASHED AT ALL TIMES and properly attended to while on the grounds.

Can I bring ALCOHOL? Yes, this Jibberjazz event is BYOB as long as you are 21+ with valid identification. NO GLASS BOTTLES!

Do you sell ALCOHOL? Alcohol is NOT sold on the grounds. The closest beer distributors are The Beer Shak (2 miles) and Country Beverage (5 miles), northward on Route 183. ​

What if I INJURE myself? A team of Registered and Licensed Practical Nurses are employed 24/7 for the duration of the festival. Basic first-aid is also available at the gate and staff members have the means to contact additional medical personnel if the need should arise. Please notify staff upon checking in if you or someone in your party has a medical condition we should be aware of. Safety is our utmost concern.
More Information

Are there QUIET places to camp? There is an area near the gate designated for "family camping" with quiet hours strictly enforced after midnight.

Can I camp with my CAR? Yes, and all stages are in close proximity (very short walk) to the main camping area.

Can I bring an RV? Yes, weekend RV passes are $50 WITH designated electricity hookup, or $10 WITHOUT electricity access. To reserve a spot or for more information, please contact: [email protected]

Can I buy ELECTRICITY access if I don't have an RV? Campground (non-RV) electrical permits are $40 each per weekend. Purchase at the gate.

What is the BATHROOM situation? The grounds feature on-site restrooms with flushing toilets and sinks and there are an abundance of port-o-johns throughout the campground. Maintenance and sanitization are provided constantly throughout the weekend.

Are there SHOWERS? Free showers with hot water are available on site during designated daytime hours.

Can I have a personal FIRE? Not unless it is contained within an elevated, store-bought fire pit (we suggest bringing your own firewood). A community bonfire will be on-site to keep everyone warm. Camp grills/stoves are okay. Please be responsible for everyone's sake. Fire pits discovered on the ground will be extinguished immediately and nearby campsites will have to be relocated.

What happens if it RAINS? In case of severe weather, there is always a backup plan in place to have outdoor music moved to safe, indoor stages with similar set times and lengths.

Is there an ATM? There is an ATM in the vending area. However, if you plan on purchasing tickets at the gate, please bring enough money with you as cash is the only form of payment accepted day of show, and you cannot access the ATM until after you enter the festival grounds.

Will there be YOGA? Yes. Check the festival program for a full schedule and description.

Is there a HOTEL nearby? We recommend the Pine Grove Comfort Inn (14 miles west of the fairgrounds, where route 81 intersects 443). They sometimes offer a discounted rate during festival week if you mention "Jibberjazz" when booking.

What else is NEARBY? Hawk Mountain's website has a list of nearby attractions:
https://www.hawkmountain.org/visit/visiting-info/stay-eat-shop-local

Where can I get some FLYERS? Email us at [email protected] to have some mailed or emailed to you.

How can I become INVOLVED with Jibberjazz? We are always looking for more reliable volunteers for promotion, clean-up, etc. Please reach us AHEAD OF TIME by emailing [email protected] for an application. Events are fully-staffed before gates open.
Since 2005, Jibberjazz festivals have drummed up a buzz in the underground by showcasing a truly diverse musical-lineup that blends heavy-hitting out of market bands, national acts, and up-and-coming regional talent. Our festivals have developed a dedicated fan base in the region and continue to grow in intensity and attendance, season after season. The trend continues through 2020, as we continue our quest to find "Tomorrow's Headliners Today." Creative line-ups, killer music, and good people are what Jibberjazz is all about.